Numismatic Catalog of Venezuela
Type A
Page Reference
For reference, the URL address of this page is:
https://numismatica.info.ve/en/banknotes/bcda5ps-aa.htm

You can also access this page directly by using the code: bcda5ps-aa
Obverse
Photo from piece
bcda5ps-aa01-4
: Design A, Type A. Date Febrero 18 1856. Serie 4 digits
Photograph credits:
Numisur
Reverse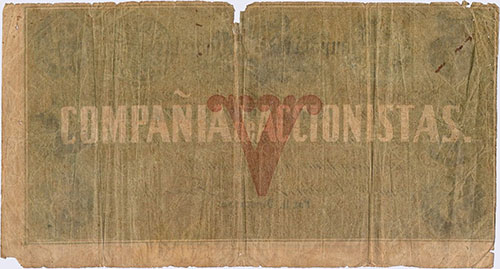 Photo from piece
bcda5ps-aa01-4
: Design A, Type A. Date Febrero 18 1856. Serie 4 digits
Photograph credits:
Numisur
Characteristics
Identification Code: bcda5ps-aa
Obverse: Design in black. At left, allegorical of the Lady Justice and at right allegorical of a seated woman. In the center, over "V" in red, the payment clause and the denomination in words "Vale por CINCO PESOS SENCILLOS que se pagarán al portador a la vista en Caracas en plata u oro sonante por los abajos firmantes". Next, the date filling space "Caracas ____ de 185__". In each corner the denomination value "5". On the top, allegorical of a lying woman with sailing ship, with the denomination in words "CINCO PESOS" within a circle at each side And the issuer name "Compañía de Accionistas".
Reverse: In the center, the issuer name "COMPAÑIA de ACCIONISTAS." over "V" in red and over a background in green.
Improve the catalog
| | |
| --- | --- |
| | If you have an unlisted piece, you can send a comment along with a photograph following the instructions in the Contact section for verificaton and cataloging. Your contribution will be appreciated and will help to improve the quality of this website. |
Legend
Piece information
No change
Unconfirmed (C)
Added recently (N)
Deprecated (E)
Updated (A)
Unverified (V)
In revision (R)
Unconfirmed: Referenced piece that it's not confirmed the existence.
Added recently: Piece added since 2 August, 2023
Deprecated: Piece deleted and no longer valid.
Updated: Piece updated since 2 August, 2023
Unverified: Piece that should exists but no verified piece is known.
In revision: Catalogued piece that is under revision.
Entry without photo

Entry with photo
Entry with updated photo
Entry with incomplete photo
N/L
Not Listed in Standard Catalog of World Paper Money (SCWPM)
XX.XXX.XXX ?
Estimated amount, not confirmed
NOTE: The piece identification from the Standard Catalog of World Paper Money (SCWPM) used in this website is updated to: Specialized issues (7th edition - 1995), General issues 1368-1960 (14th edition - 2012) and Modern issues 1961-2019 (25th edition - 2019)